Medicare Advantage Versus Medicare Supplement – What's the difference?
This is the time of year when everyone is bombarded by advertisements (TV, Radio, Internet) and phone calls regarding Medicare products.  No one is supposed to call regarding Medicare unless you have permitted them to contact you.  Although that is the case, even I, at age 35, am getting 2-3 phone calls daily regarding Medicare.  It's frustrating and overwhelming at times as I have missed important phone calls due to these annoying sales calls. 
Most of these calls are from an overseas telemarketing company, and if you engage with them, they will transfer you to an insurance agent.  I've gone through the call to see what everyone on Medicare has to deal with and when the agent gets on the line, they only care about selling.  I told the agent I had a health condition to see what their response would be, and they decided I wasn't worth their time and hung up the phone.  BE CAREFUL if you are speaking to anyone who calls out of the blue about Medicare.  They may not have your best interest at heart.
That being said, I want to explain the difference between Medicare Advantage and Medicare Supplement so you can better grasp what coverage you have now versus what else is available.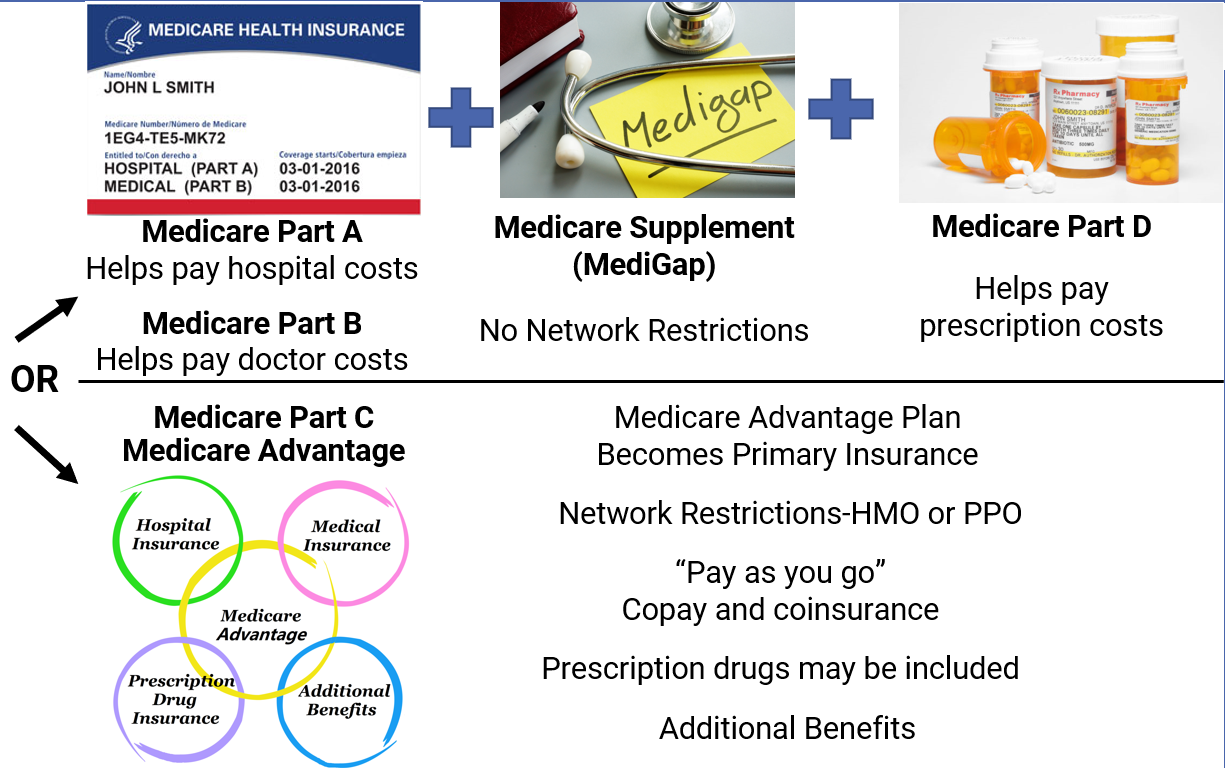 Medicare Supplement Coverage + Prescription (Part D)
Medicare Supplement Plans, also known as Medigap, are through private insurance companies and are secondary coverage to your red, white, and blue Medicare card.  Medicare Supplement plans do not have network restrictions, so you can see any doctor who takes Medicare (about 90% of doctors) and every hospital in the country.  With Medicare Supplement plans, Medicare Parts A and B pays first, and the remaining amount due is either paid fully or partially by your Medicare supplement coverage. 
Medicare Supplement plans have a monthly fee to them, which is based on your age. In New Jersey, every year you get older, the supplement price gets more expensive; this is not the case in every state.  Additionally, the plans update their pricing yearly (typically a rate increase on average of 3-5%).
For the first six months of enrolling in Medicare, no health questions are asked to qualify for a Medicare Supplement plan.  After six months, you are asked health underwriting questions to qualify for a Medicare Supplement plan.  To qualify, the insurance company will ask what prescriptions you take and whether you have any health conditions. You can be denied or charged a higher price based on your health. Additionally, if you're a smoker, you will pay a higher monthly price if you are not applying during your initial Medicare window.  This is the rule in New Jersey; not all states ask health questions to qualify for coverage.
Most people need to add on a separate plan for prescriptions, Medicare Part D.  This coverage also has a monthly fee, which varies based on your chosen plan. Programs are available at a low cost, in the range of $10 per month, with a $505 deductible for higher-tier medications (typically brand name). There are plans with no deductible in the range of $80-$100 per month. 
To summarize, Medicare Supplement plans have a monthly fee but allow you to not worry about being charged high amounts for every doctor, hospital, surgery, or treatment visit.  You can also use the coverage anywhere in the country without worrying about network restrictions.
Medicare Advantage Coverage (Part C)
Medicare Advantage plans are a way of getting your Medicare all through a private insurance company.  There are never any health questions asked to qualify for a Medicare Advantage plan.  With this coverage, you have a copayment or coinsurance for each medical service.  The amount you pay for a service varies based on the plan and company you're enrolled in.  An example of a copayment is when you see your primary care doctor, you may owe $10. 
The Medicare Advantage plans available in New Jersey are all HMO or PPO.  An HMO is in-network only; you must see providers who accept the coverage unless you are in an emergency.  A PPO has in-network providers and allows you to see doctors/hospitals out of network; typically, you'll pay a higher price to see providers out of network, but it is beneficial to have that flexibility.
Medicare Advantage plans include extra benefits; most plans have prescriptions in the policy, so you don't have to purchase a separate prescription (Part D) plan.  Many plans also have benefits such as dental, vision, hearing aid assistance, over-the-counter items, and gym membership.  The amount given for these services varies based on the plan you're enrolled in.
The benefits of a Medicare Advantage plan are that you have a low monthly premium for the coverage and don't have to purchase a separate plan for prescriptions. Most plans include the extra benefits of some dental, vision, and hearing aids.
The drawback to a Medicare Advantage plan is that if you are diagnosed with an expensive procedure or treatment, you would owe out-of-pocket costs.  Most Medicare Advantage plans in New Jersey have a maximum out-of-pocket amount of $7,550, which you could owe if you have an unhealthy year.  The other drawback is that you have to see providers willing to accept the coverage; you can't just see whichever doctors/hospitals you want.
Medicare Annual Enrollment Period
You have another month to decide which coverage is the best fit for your needs in 2023.  The Medicare Annual Enrollment period ends on December 7th.  If you would like to keep your plan as is, you don't have to do and the coverage auto-renews; however, if you would like to make a change or discuss your options, you can schedule an appointment with us.  Click here for a link to our online calendar, or you can call us at 800-797-0605.  We at New Jersey Medicare Brokers are committed to helping you with this important decision.